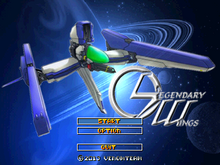 Legendary Wings is a doujin Thunder Force game designed by Venomteam in 2013
Graphics and Sounds
Edit
Athough the game is based on Thunder Force V, and uses the RVR-01 sprite/CG from the game, it also uses graphics lifted from other shoot em' up games.
Gaiares
Air Buster / Aero Blasters
Carrier Air Wing / U.S. Navy
The music and sound effects are mostly from Thunder Force V, but also borrows from other games like G-Darius and Megaman X.
Federico "Venom" Botaini - Programmer
Giani "AT Ryo Sakazaki" Finocchi - Graphics artist
Nicola "UaiZ" Bianchi - Debugger / Beta Tester
Simone "Bouledouge" Nocentini - Debugger / Beta Tester
The "Steel of Destiny" audio track used is Pandora, a song by Maurizio "Mitsuhashi" Seghi
http://lw.uaiz.it - Download link.
Community content is available under
CC-BY-SA
unless otherwise noted.